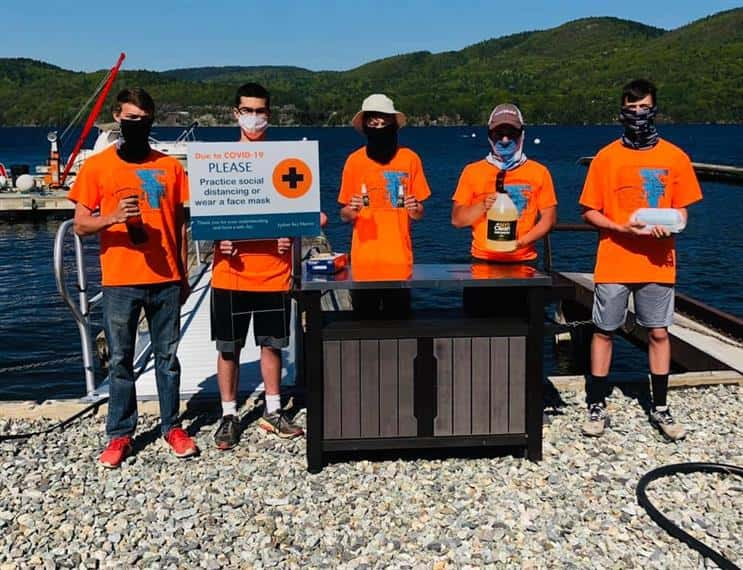 COVID-19 Protocols
The crew here at Indian Bay sincerely hopes everyone has stayed healthy throughout this pandemic.
Here in our little town of Willsboro we have been fortunate and with some hard work have avoided any
documented cases of Covid-19 and we would like to keep it that way. We hope that our protocols can
give you some level of assurance as you visit our facility in these uncertain times. We appreciate your
cooperation in advance.
With this in mind and along with our in-house Safety Plan we ask all our patrons to abide by the
following protocols for your safety as well as that of our staff members who are here to serve you.
By LAND
When you arrive, there is no need to leave your vehicle. A server will be out to greet you to complete your transaction and deliver your order. At your request your order and payment info can also be left at the table you will see on the lawn.
If you ordered alcohol you must be 21 so be prepared to show ID
The restaurant is closed except to Staff Members.
Please practice social distancing
By SEA
If you arrive by boat a staff member will come out the dock to get your information, complete your transaction and deliver your meal
If you ordered alcohol you must be 21 so be prepared to show ID
Please utilize the hand sanitizer located at the "station" as you come on shore. If you need gloves or a mask you will find them there but we ask that you try to have your own mask.
Please do not come on shore if you are ill.
Please practice social distancing
General
All bathrooms are cleaned and sanitized after each shift
Bathrooms are fogged with approved food grade sanitizer daily
All surfaces in the kitchen and other work areas are cleaned and disinfected regularly
All staff wear the appropriate PPE for their tasks.
Staff members are health screened and temperature checked prior to the start of their shifts
Hand sanitizer is located in all restrooms and building entrances
Thank you,
Joe and Patty